Frequently Asked Questions
Frequently Asked Questions
What is a V-Groove?
A v-groove is an extra thin line, or groove, cut into the surface of the top mat, away from the cutout opening, to generate additional focus or accent to your artwork. A V-Groove is not the beveled edge of a mat opening.
Single Mat
A single layer 4 Ply mat, approx. 1/16" thick. All mats cut with 45 degree, beveled cut opening (tan single mat shown)
Double Mat
Two single mats stacked on top of each other. Top mat is most visible (closest to glass if framed). Bottom mat is the less visible (closest to artwork when framed). The top mat opening is cut larger to let the bottom mat show through as an accent color. (tan and black, double mat shown)
Opening Sizes
What do the two sets of numbers mean? example 8x10 (7.5x9.5)
The first numbers are "typical" artwork/photo size. e.g., 8x10 or 11x14. The second numbers in parenthesis is the "actual opening size" cut into the mat. This allow for a small .25" of overlap on all four sides of the artwork/photo, so it does not fall through.
Bottom Mat Reveal
The term "Reveal" refers to how much of the bottom mat is visible under the Top Mat on double mat items. Industry standard is 1/4" but you can choose to increase or decrease if desired.

Fraction to Decimal Cheat Sheet
1/8 = .125
1/4 = .25
3/8 = .375
1/2 = .5
5/8 = .625
3/4 = .75
7/8 = .875
Show Kits
Show Kits are packs of Mats + Backers + Clear Bags. Available in convenient ready-made 25 Packs or simply add your choice of mats, backers and clear bags to your cart in any quantity.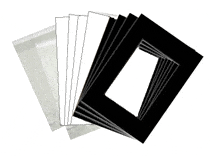 OPTIONAL SERVICES/ADD-ONS
Glue Mats Together:
For Double Mats only. Select if you want the Top Mat and Bottom Mat glued together. Backer Boards, if ordered, are not glued to the mats.
Multiple Openings:
We offer custom matting with multiple openings to a mat. If it fits, we'll cut it. Describe in Special Instructions box on each product page and/or send us an email drawing/photo with dimensions.
Change Opening Type:
Simply changes the opening from the standard rectangle or square opening. On Square Openings, if the the Oval Opening option is selected, it will create a Circle.


Oval Opening Rounded Opening
Clear Bags:
Typically used for unframed mats for protection and presentation purposes.
Standard Closure Bags have the adhesive strip on flap. The Protective Closure Bags have the adhesive strip on bag.
Standard Closure Protective Closure

Add Backer Boards:
Backer Boards are for placing behind artwork or photos to protect from damage. Thay are also used to add support, rigidity and a clean presentation to non-framed pieces.
Custom Opening Size:
Our custom picture frame mats can be altered in many different ways to fit your liking. Every mat has a dropdown list of "standard opening sizes" to choose from. The first numbers are "typical" artwork/photo size. e.g., 8x10 or 11x14. The second numbers in parathesis is the "actual opening size" cut into the mat, (7.5x9.5) or (10.5x13.5). This allow for a small .25" of overlap on all four sides of the artwork/photo, so it does not fall through. If you want or need an Opening Size not listed, choose the Custom Opening Size option. You will then type in your desired dimensions. Custom sizes will be cut EXACTLY as you type it in. Custom opening sizes must be at least 1.5" smaller than the mat size chosen. Example, 8x10 mat with 6.5x9.5 opening is 1.5" smaller, leaving .75" of mat around the opening on all four sides.
________________________________________________________________________________________________________
Optional Services:
Glue Mats Together

Change Opening Type

Add a V-Groove