14x14 White Core Square Double Mat
Buy More & Save
Buy 6 - 11 and pay only $7.77 each
Buy 12 - 23 and pay only $5.18 each
Buy 24 - 47 and pay only $3.63 each
Buy 48 - 99 and pay only $3.32 each
Buy 100 - 499 and pay only $3.01 each
Buy 500 or above and pay only $2.69 each
Mat board only pricing shown. Any optional items added will also receive discounted pricing as applicable to it's category.
Find Similar Products by Category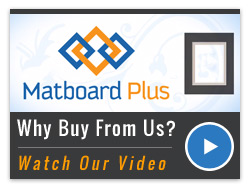 14x14 White Core Square Double Mat
Product Description
Standard White Core mats are ideal for everyday, non-conservation framing of posters, decorative art prints, craft projects and photographs.
Non-fade, bright-white core

Buffered, pH neutral (acid-free)

4-ply thickness (approx 1/16")

All mats cut with a 45 degree bevel

Same high quality mat board found in frame shops...just less expensive!