12x16 Economy Double Mat Board
Buy More & Save
Buy 6 - 11 and pay only $5.12 each
Buy 12 - 23 and pay only $3.41 each
Buy 24 - 47 and pay only $2.39 each
Buy 48 - 99 and pay only $2.18 each
Buy 100 - 499 and pay only $1.90 each
Buy 500 or above and pay only $1.77 each
Mat board only pricing shown. Any optional accessories selected here will be added to price shown.
Find Similar Products by Category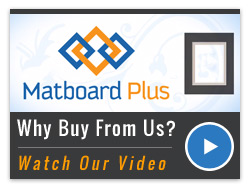 12x16 Economy Double Mat Board
Product Description
Typical Opening Sizes are listed as: Photo Size (exact opening size in mat) example: 8x10 (7.5x9.5)
Need A Custom Opening Size? In Opening Size box: Select 'Custom Size', then type in 'exact opening size' to be cut, in the Custom Opening Size box.
* On Double Mats, this size is the Bottom Mat opening (closest to photo). A standard 1/4" reveal (larger opening) will be cut for Top Mat.